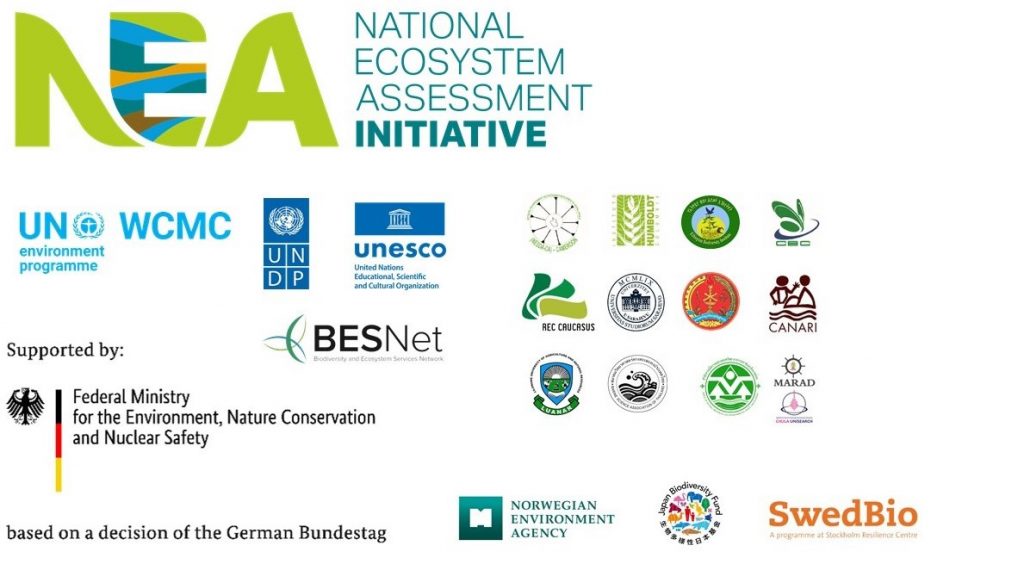 The NEA Initiative works in partnership with organisations around the world to support and deliver NEAs. This includes country partners who implement assessments, consortium partners who support implementation, and donors who provide financial support.
Consortium partners
The NEA Initiative at UNEP-WCMC is part of a consortium with the United Nations Development Programme (UNDP) and the United Nations Educational, Scientific and Cultural Organization (UNESCO) under the Biodiversity and Ecosystem Services Network (BES-Net).
Through BES-Net, UNDP contributes to building capacity at the national level for undertaking national ecosystem assessments in collaboration with governments and partner organisations around the world. This work complements the IPBES global assessment using the IPBES guide on the production of assessments. In particular, UNDP supports country partners in engaging stakeholders into the assessment process using the Trialogue methodology, which enhances three-way dialogue between science, policy and practice actors around the key issues addressed by the assessments.
UNESCO's Local and Indigenous Knowledge Systems (LINKS) Section is the indigenous and local knowledge focal point for the BES-Net initiative. LINKS is part of the Division of Science Policy and Capacity Building in the Natural Sciences Sector. LINKS also hosts the IPBES Technical Support Unit for indigenous and local knowledge. LINKS promotes indigenous and local knowledge as an important evidence stream and facilitates inclusion of indigenous peoples and local communities in global climate science and policy processes. It has been influential in ensuring that indigenous peoples and local communities and their knowledge are included in contemporary science-policy-society fora on issues such as biodiversity and ecosystem assessment and management (CBD, IPBES), climate change assessment and adaptation (IPCC, UNFCCC), disaster risk reduction (UNDRR) and sustainable development (Rio+20, Future Earth).
Country partners
The NEA Initiative is currently working with three groups of countries across five continents who are implementing national ecosystem assessments:
Tranche I countries

In 2017, Cameroon, Colombia, Ethiopia and Viet Nam joined the NEA Initiative to undertake their national ecosystem assessment. They will officially launch their assessments in 2021 and will move towards use of assessment findings stage to support policies and decisions across relevant sectors.
Tranche II countries

In 2018, Azerbaijan, Bosnia & Herzegovina, Cambodia and Grenada joined the NEA Initiative to carry out their national ecosystem assessment. They are currently in the second stage of their assessment process: evaluation of knowledge on biodiversity and ecosystem services to address key policy questions identified as priority by assessment stakeholders.
Tranche III countries

Dominican Republic, Malawi and Thailand joined the NEA Initiative in 2020 to develop their national ecosystem assessment. Currently, they are convening their assessment teams and starting the first stage of the assessment process: scoping. Through stakeholder engagement they will identify main priorities of the assessment, including the key policy questions that will be addressed.
Southern Africa country support
The NEA Initiative is supporting Botswana, Zambia and Zimbabwe to scope the potential need and impact of conducting a national ecosystem assessment. This work is carried out with support from the Norwegian Environmental Agency.
---
Donors
Financial support for the NEA Initiative is provided by the International Climate Initiative (IKI) of the Federal Ministry for the Environment, Nature Conservation and Nuclear Safety of the Federal Republic of Germany. Additional support is provided by the Japan Biodiversity Fund, the Norwegian Environment Agency and SwedBio at the Stockholm Resilience Centre.
Technical partner
Helmholtz Centre for Environmental Research – UFZ
The Helmholtz Centre for Environmental Research – UFZ is working with the National Ecosystem Assessment Initiative as a technical partner to support partner countries develop/strengthen national science-policy platforms on biodiversity and ecosystem services.