View all news
New guidance launched: National ecosystem assessments to support implementation of the Convention on Biological Diversity
On the 23rd of November 2021, the Sub-Global Assessment Network in collaboration with the NEA Initiative at UNEP-WCMC hosted an open webinar to launch the guidance 'National Ecosystem Assessments to support implementation of the Convention on Biological Diversity'.
In 2018, the Conference of the Parties to the Convention on Biological Diversity (CBD) encouraged parties and governments to undertake national assessments of biodiversity, ecosystem functions, and ecosystem services (Decision 14/1). National ecosystem assessments can play an important role in supporting CBD implementation at the national level by providing a critical synthesis of knowledge on biodiversity and ecosystem services and enhancing national capacities at the science-policy-practice interface.
The new guidance document aims to support National Focal Points of the CBD and IPBES to better understand how national ecosystem assessments can help countries overcome different challenges in CBD implementation: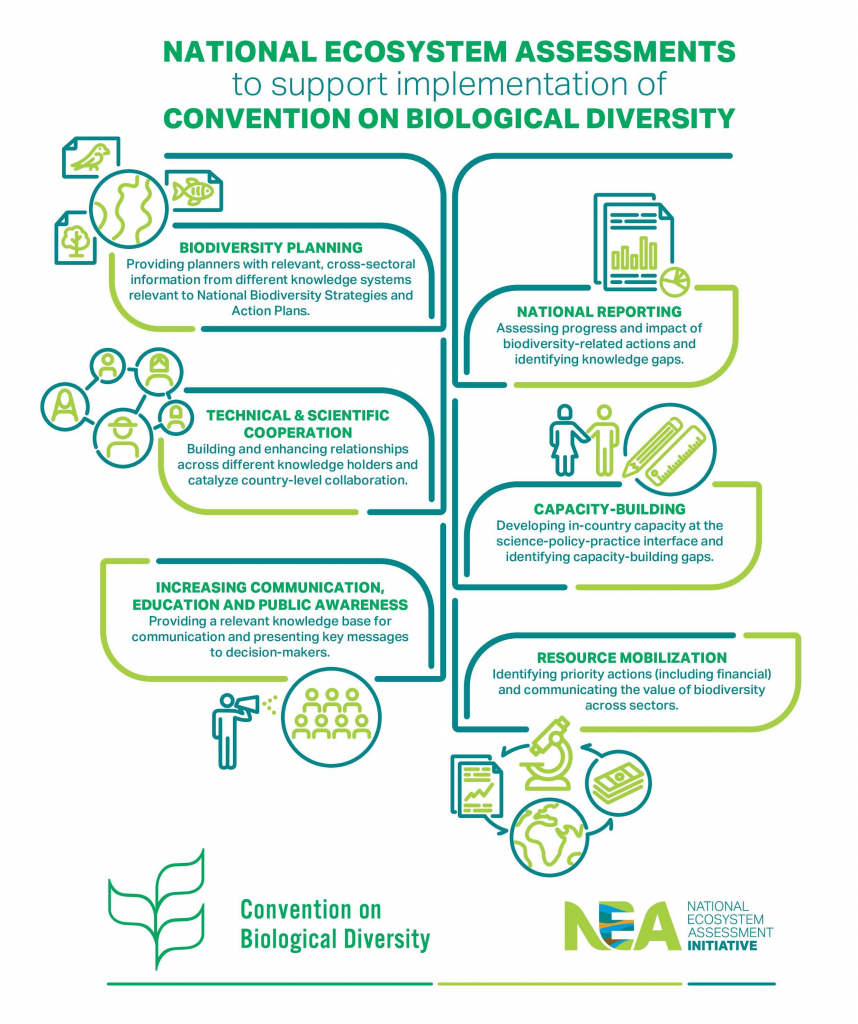 The event commenced with opening remarks from Nadine Saad from the Secretariat of the Convention on Biological Diversity, who highlighted that national ecosystem assessments provide an opportunity to strengthen links between the implementation of the Convention and the development and implementation of National Biodiversity Strategies and Action Plans (NBSAPs).
Dr. Shaenandhoa Garcia Rangel, Senior Programme Officer at UNEP-WCMC, followed with an overview of national ecosystem assessments and explained how the Intergovernmental Science-Policy Platform on Biodiversity and Ecosystem Services (IPBES) methodology can be tailored to national ecosystem assessments.
The final presentation was delivered by Dr. Claire Brown, Principal Technical Specialist at UNEP-WCMC, highlighting the different challenges that arise when implementing the CBD at a national level, and how ecosystem assessments can help address these challenges and support national implementation of the CBD.
Dr. Brown presented a range examples and case-studies on how national ecosystem assessments can help countries to overcome challenges in CBD implementation around: biodiversity planning; national reporting; technical and scientific cooperation; capacity development; communication, education, and public awareness; and resource mobilisation. These case studies from the guidance document served to highlight how national ecosystem assessments can support meeting national commitments under the Convention.
The guidance document was developed in collaboration with the Secretariat of the Convention on Biological Diversity (CBD) and with the generous support of the Japan Biodiversity Fund. The information in this document was compiled from the inputs of CBD and IPBES National Focal Points at workshops held in 2019 in Bangkok, Thailand and Kunming, China, and through a survey.
The launch was attended by a range of participants, including CBD and IPBES National Focal Points, national ecosystem assessment teams from around the world, as well as other individuals working to support their country's commitments under the CBD.
If you would like to find out more, you can access the webinar recording and the guidance document below: